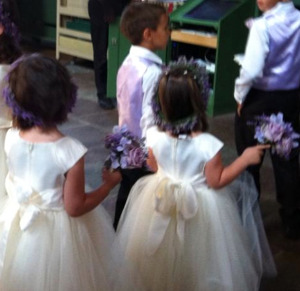 This last weekend I had a meeting with the bridesmaids and groomsmen in the home of the bride and groom of my next wedding . Together we went through the wedding planning and the Ceremony. This kind of preparation is important so that everyone knows what to do when the big day comes ! It is of great value to talk about the expectations from them all , and that the most important people have the same picture of the wedding, and the same idea of what they are supposed to do; both before the wedding, during the ceremony , and afterwards at the party!
There will be a wedding rehearsal the day before the wedding, very important especially if you have many Flower Girls (and Boys!), as I have sometimes. Not as common in Sweden though.
The marriage ceremony can be designed in many different ways . The picture above is linked to an article describing some of the swedish wedding traditions, but I can asure you that they vary alot . The definitive personal design of the ceremony is created in collaboration with the minister or other wedding officiant who is to marry the bride and groom !